Benefits of Composite Doors
Without question, composite doors are one of the best choices for a domestic property. Comprising a solid timber core, foam insulation, and uPVC or fibreglass veneer, they are strong, hard-wearing, and energy-efficient – more so than almost any other domestic door we can think of.
Here at Thextons, we supply and install composite doors for private customers and commercial clients (including landlords, letting agents, commercial developers, and property management companies), and we know the advantages they offer to residential properties. In this article, we're going to discuss some of those benefits.
Download Brochure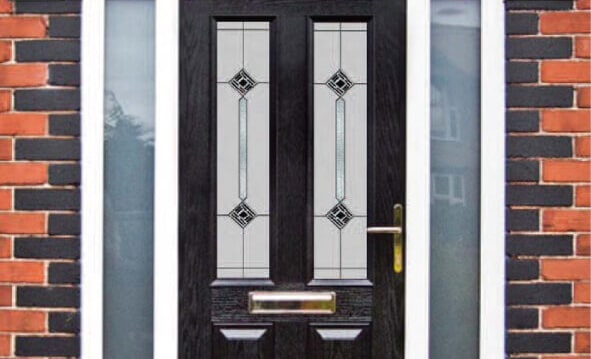 Composite doors look great
It might seem shallow, but there's no denying that composite doors are an attractive addition to any home. Available in a range of styles, colours, glazing options, and finishes, you will be able to find the ideal composite door to meet your home's particular aesthetic. These beautiful doors add curb appeal and value to a property, also a key consideration if you're looking to sell.
Composite doors are strong
The multiple layers of different materials that make up a composite door ensures they have a solid core providing considerable strength and durability. Many modern composite doors reinforce this further, incorporating a reinforcing mesh into the insulating foam and inserting vertical steel bars into the core itself for added strength and durability.
Composite doors are low maintenance
Unlike a traditional timber door, composite doors require almost no maintenance whatsoever. You don't need any paints or varnishes, the glass-reinforced plastic (GRP) veneer does not fade or discolour, and there is no danger of the doors warping and cracking in the heat. Literally all you need to keep your composite door looking good is the occasional wipe down with a damp cloth.
Composite doors are heat efficient
With insulated foam built into its construction and a solid core to contend with, composite doors help to prevent you from wasting energy. Since the hot air can't get out and the cold air can't get in, you'll use less energy to warm your home, resulting in lower heating bills.
Composite doors are noise efficient
Tired of hearing cars on the main road and neighbours bickering in the street? With a composite door, noise pollution is kept to an absolute minimum, reducing the amount of noise you hear and letting you enjoy the peace and quiet of your own home.
Composite are safe and secure
The strength and durability of a composite door already makes it a great form of protection against unwanted intruders, but it doesn't stop there. Most composite doors include enhanced security features such as triple-locking mechanisms and tamper-proof lock cylinders that are anti-snap, anti-pick, and anti-drill.
Read more
Here at Thextons, we install composite doors for domestic customers and commercial clients alike, across Liverpool and the Wirral. To get a free, no-obligation quote for our services, give the team a call today on 0151 608 2278.
Contact